Stretched out like a daydream, like another future, Molly Erin McCarthy's invitation favours no half-published interactions. McCarthy [b.1995], a Plymouth-based artist is presenting her solo debut at the Zabludowicz Collection, an Invites Exhibition curated by Julia Greenway.
The narrative that tails throughout the exhibition is a sculptural landscape drawn out; the materials generated are loaded to not make an outflow but as an attempt to forge a newly real rendered digital universe. McCarthy's work offers a dystopic grounding and is favoured as the lore of the land, sandbags, breezeblocks, lichen, and industrial slag are all materially implicated: an imprint balancing on breaking form to not leave the viewer behind.
The works in view deal with an expansive approach to the material, for filler forms, staged dioramas, and resin-made retroactive symbols that are seemingly inconsequential as the language we use, – as limited as the language we use forge this digitised feeder tableau which abstracts new from the very material at hand. This plays to a trying, a kind of fictioning, a building up of a monument.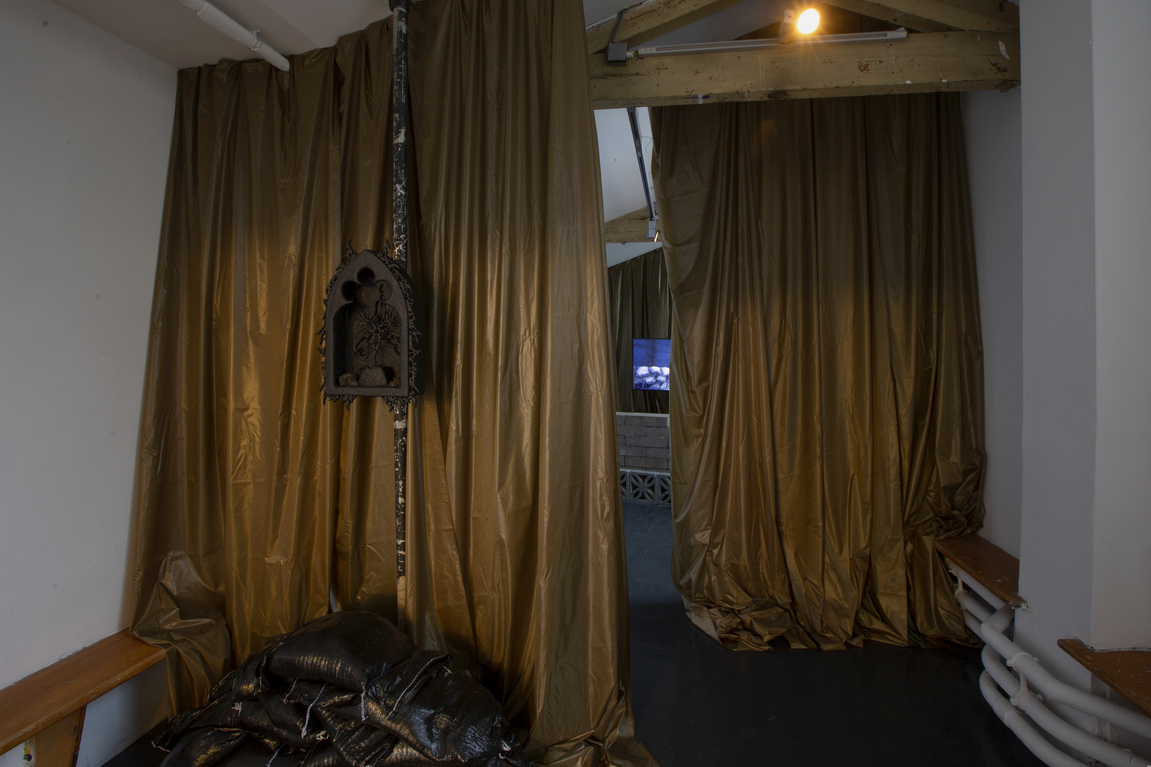 The Celtic iconography registers with the Zabludowicz Collection's own church architecture, with works RE:Chayn, [2023] and Spire, [2023] in direct conversation with the stained-glass window. Spire being settled as if it always was meant to be on the window pane, – made from a prophetic dream, the miniature floodlights are most assuredly homegrown. The black sandbags appear as sticky as tar and the khaki dust sheets are almost luminescent under the direction of the overhead lighting, fixing the audience's view to go further ahead. At the end of the path, when crossed is the interactive virtual environment of the piece SDiAR ver.1.321618720143181418 [2023], the audience is permitted to transverse this open-world-making. All this makes plans with complex aesthetic visions, all collapsed into one another, as the surface becomes structure; the techno-gothic and the noughties visuals are reckoned with their placement in previous, present, and new futures. McCarthy's authorship spray paints a true aesthetic drive for a digital resolve, for other futures it seems. This endeavoured forgery of worlds carries a superior interiority, which many may find is a home, a storied narrative built from an open-world interactive game.

To know more about the exhibition, we spoke with artist Molly Erin McCarthy and curator Julia Greenway about the run-up, the works presented, and the Invites as a programme at the Zabludowicz Collection as a whole.
Questions with Artist Molly Erin McCarthy
How has this experience of being part of the Invite Artists Programme, challenged previous presentations of your work, and has this stage impacted choices made, ideas had or any new directions went?
I am predominantly known for my digital practice. In Plymouth, I have a catalogue of physical and sculptural works, but mostly I am involved in digital exhibitions and contexts. My Invites show at the Zabludowicz Collection allowed for the staging of my work in a new way. I felt free to go in a new direction which is not common; most exhibition opportunities have strict perimeters that your work needs to fit into, but with Invites, I have been able to push the boundaries of my practice. I had an idea of the exhibition I wanted to make and have been supported to realise it.
Working with the notion of the 'real,' how did you prepare for this in-person exhibition at Zabludowicz, as a space to embody, and as a setting to establish this hybrid environment between the digital and physical, fact and fiction that your practice navigates so well?
This exhibition is the result of a few years of physical and digital world building. I wanted the exhibition space to feel as if the viewer was being transported to a hybrid environment – one that's a combination of a military apocalypse bunker and a spiritual shrine. For the show, I've made an installation, sculptural pieces, and a new interactive game-engine work. What I've set out to create is the sublime, eerie elements of the landscape I grew up in. I feel the outcome is quite bleak and dystopian, but my intention was that there would be an inspired conclusion. The installation consists of all the elements of a coastal shelter but, as viewers engage with the work and play the game, they will make discoveries and a narrative will gradually unfold.
Your world-building work seems to play to a new wor[l]ding, gaining a visual language as a way of knowing, – as learning to know. How did you conceptualise the physicalism of some of your sculptural work over your time with the Zabludowicz Collection? What did you learn from this experience of world-building?
In the same way that I take inspiration from video games, I have also been influenced by model making such as Dungeons and Dragon terrain and hobbyist railways.
The fabrication of my work also comes from my Dad, who makes sculptural assemblages of found and industrial materials. In model making, there is a crossover with these materials and I felt really comfortable taking that on. In the same way that I navigate the intersection between the digital and physical aspects of my work, model-making felt like a natural progression for me and my practice.
The miniature works included in this show are the physical realisation of the digital assets found in the game work. I wanted to shift the scale for the viewer and have them uncover these small elements. It's my intention to have these discoverable moments that allow pieces of the narrative to come together. 
Your expansive practice has a distinct aesthetic core from the geological landscapes, the technological age, and soul-to-body gothic. How do you hope your audience will approach and personify your work and its lore? What do you hope their expectations will be when they leave your work and its narrative behind, – if they really do?
You can't really expect anything, but I hope visitors leave with a sense of curiosity of not knowing what is or isn't real. My ambition is that they leave feeling transported, for the work to provide a temporary moment of escapism, but I also hope that the viewer walks away feeling like they've seen a version of Cornwall that may not have seen before. Maybe that's part of where this work comes from: I want people to know that there's more going on out here in 'the sticks' than they might think. It's almost like a love letter to the mysticism of the region. Ultimately, I want the viewer to be curious and enveloped by the narrative of my version of Cornwall. It sounds quite selfish when I say it like that, but hopefully, viewers will reflect on what they have seen along the way.
As your exhibition enters its first week to the public, what would you like to tell the next recipient of the Invites?   
Take risks and push an idea that you haven't been able to explore through past opportunities. Also, talk to other people, show your idea to others and bring in collaborators – don't do it alone. Getting feedback along the way was really helpful for me.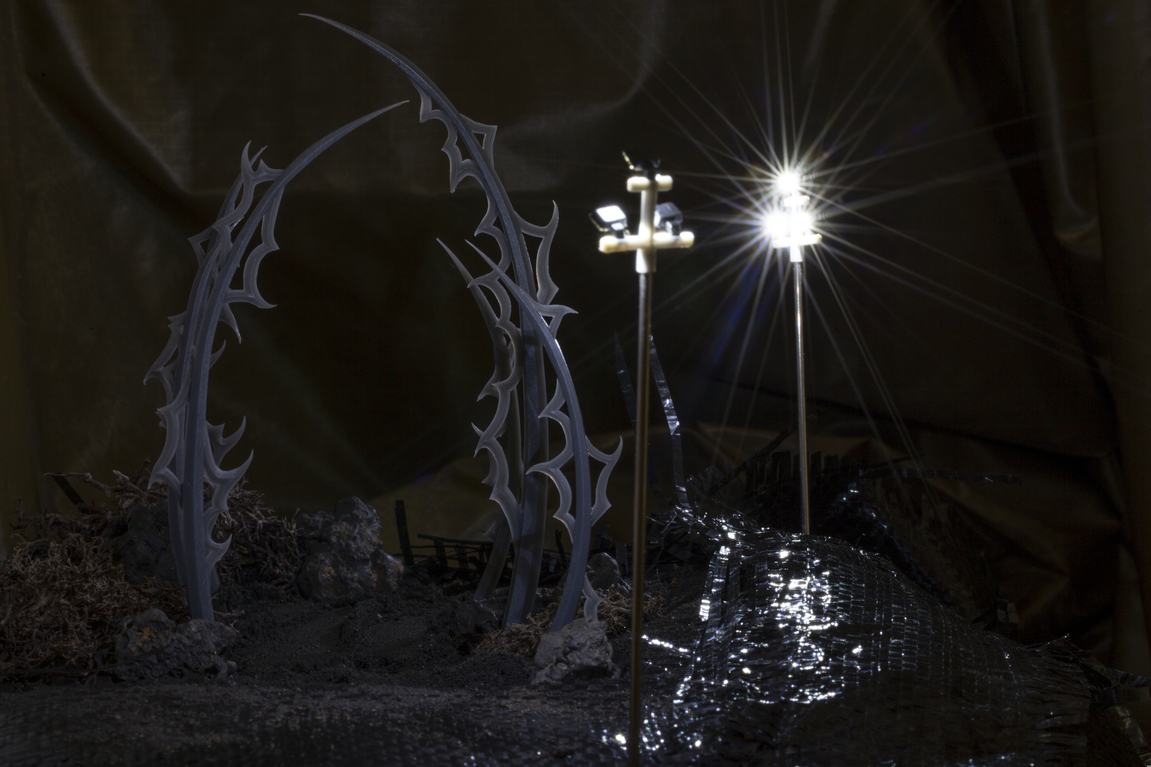 Questions with Curator Julia Greenway 
The Invites Programme is definitively devout in the artist's utter inhabitation of the Zabludowicz space, transforming for each Invite. How does this narrative building appear to evolve and re-world with each artist Invite? Have there been pointed expectations made each time or were surprises not foreseen every time?
The Invites exhibitions are fully led by the artist. We provide curatorial and production input along the way, but it is our main objective to support an artist to realise the fullest capacity of their practice with the opportunity. As with any production or exhibition, a proposal is generated with the artist, and as works start to materialise in the physical space amendments often occur. The process itself is determined by the artist and practice that we are supporting at this particular time, for example, a performance artist is going to have a different set of considerations than an artist that makes paintings.
How do you think the Invites Programme has enabled the selected artists over the years to make new opportunities and futures for their work?
It is our hope that the Invites programme acts as a form of career and professional development at a pivotal moment in a young or emerging artist's career. Invites can often lead to an artist's work being acquired into collections or future exhibition opportunities. Additionally, the curatorial support and contextualising of one's practice can really propel artists into the next stage of their careers.
Three UK-based and non-gallery-represented artists are given the chance at a dedicated solo exhibition each year. What has been a rewarding moment for you and for the Invites?
I feel quite privileged to work so closely with the Invites level artists and support them to execute a solo presentation. Working collaboratively with artists is the foundation of my practice and it feels a natural fit for me to work alongside them through the Invites programme. In terms of a rewarding moment, I think this happens in the aftermath of the exhibition when artists come back to us saying the Invites exhibition led to further opportunities in the success and visibility of their work.
What was the triggered instigator for the inception of Invites, and what have been the structural changes from its drawing board beginnings to now?
The Invites series was initiated in 2012 to take up the support that the Collection has always given young artists and bring it to the foreground of the programme. The original schedule of one exhibition a month was quite challenging for both visitors and artists, and we have since expanded the scope to a few shows per year for a longer duration. This is important for artists to realise new work and plan for an ambitious installation process.
I have been leading Invites since 2021 so I am still new to the development of the programming. When I look towards whom to put forward for the opportunity, I set out to showcase a diversity of practices. I want to push the exhibitions to feel widely different from one presentation to the next, I think this keeps the programming dynamic. I am attracted to more experimental and technological based practices; shows like Molly's where game play and world-building are at the core of the exhibition is a very exciting outcome for me.
What has attached you to Invites to be continuing and building growth since, and what do you plan the coming years to look like for such an inviting programme?
I think there is room for Invites to grow. I would like to provide the artists with a larger space, more funding, and possibly even shifting the way we present their work. All in all, Invites is at the core of the Collection and one of the most valuable and rewarding aspects of our programme, and I foresee us only continuing to lean further into the space of supporting artists throughout different stages of their practices. Few organisations provide such support to early career artists who need it the most.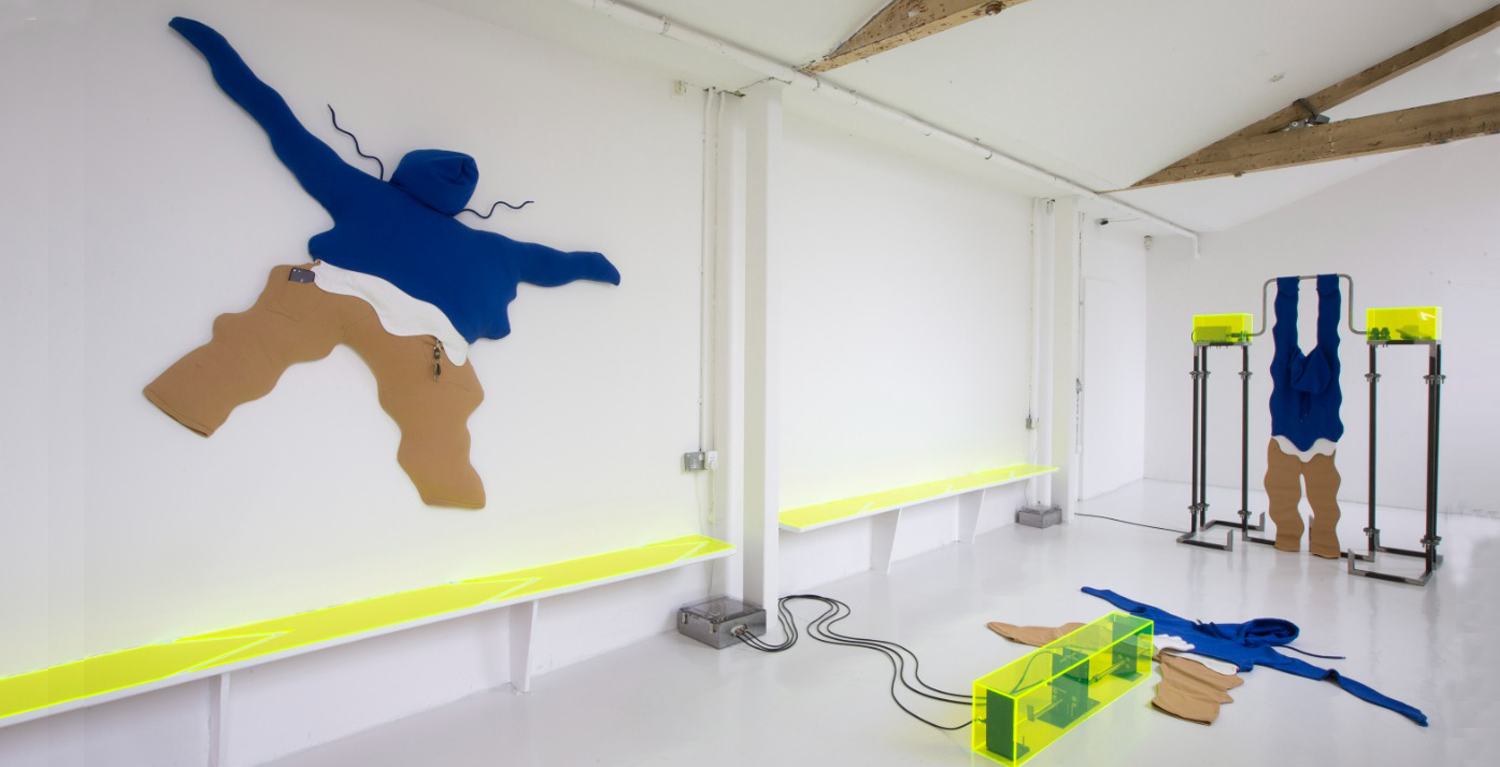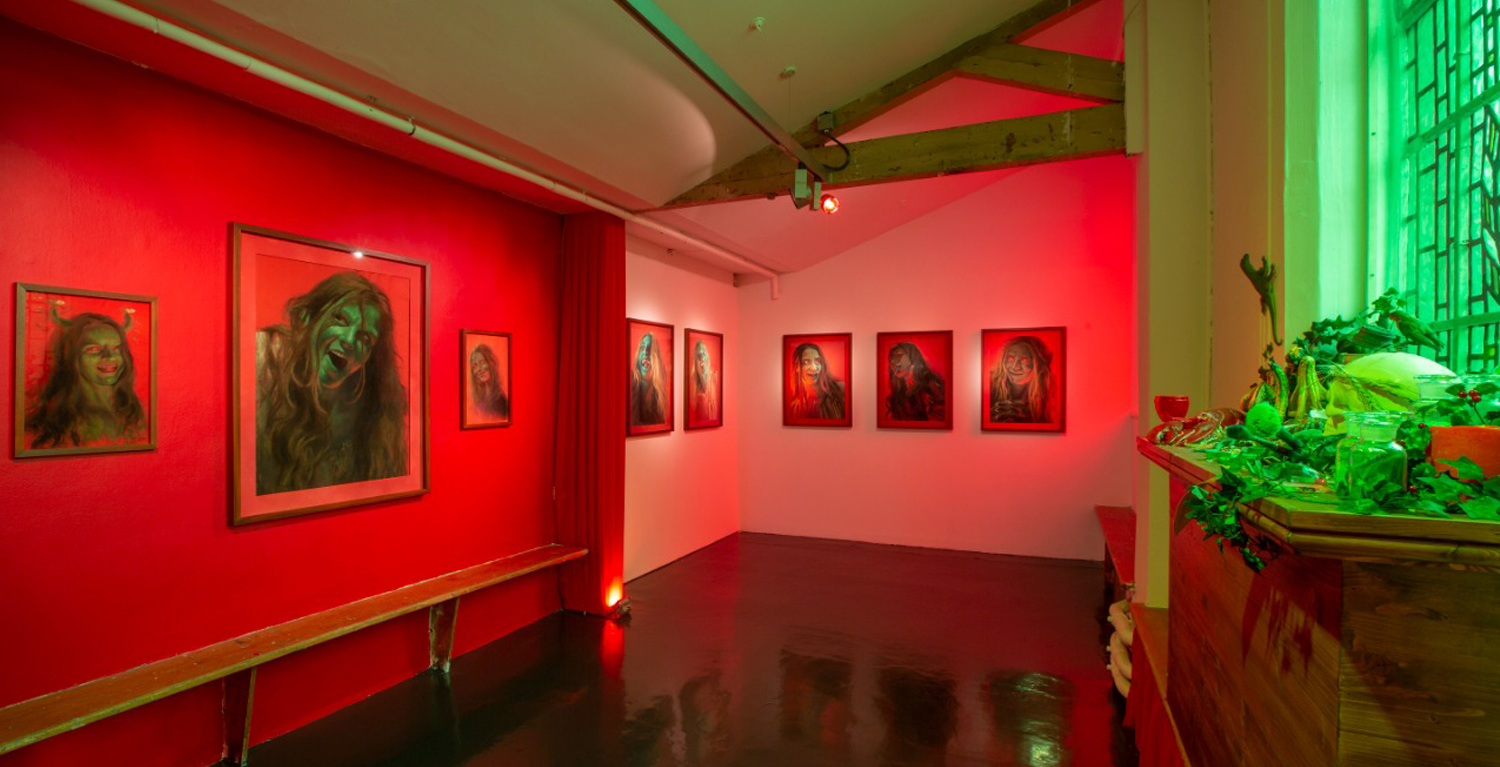 The Invites series' previous recipients include most recently in the 2022 season, Shinkuk Suh, and Rebecca Parkin. As well as previous artists Lindsey Mendick who was most recently part of the Hayward Gallery's exhibition 'Strange Clay' and Heather Philipson, who has been shortlisted for the 2022 Turner prize. Molly Erin McCarthy our current artist Invite offers a new date for the calendar, Invites Artist Presentation: Molly Erin McCarthy on Sunday 5th February at 3 pm. You will be able to join McCarthy for a live twitch stream tour of her interactive work.
Molly Erin McCarthy's exhibition offers a malleable conceptual: a formalisation of false starts, bits of time, and escaped reality. The physical is learning to see, a new landing playing so well between the physical and the non-physical, an Invite to accept.
For more information: Invites: Molly Erin McCarthy | Zabludowicz Collection | London Art Gallery
By Devika Pararasasinghe
Devika is currently living and working in London, by trade an artist. Devika graduated, as of September with a research MFA at Ruskin School of Art, University of Oxford. Devika's latest Review: The New Black Vanguard: Photography between Art and Fashion – Saatchi Gallery-Now on, until 22 January 2023 (abundantart.net)
Image: 1. Molly Erin McCarthy, O.O.S., 2022. Digital collage. Courtesy the artist. 2. Invites Molly Erin McCarthy, SDiAR ver.1.321618720143181418. Installation view 2023 at the Zabludowicz Collection. Photo David Bebber. 3. Invites Molly Erin McCarthy, Spire. installation view 2023 at the Zabludowicz Collection. Photo David Bebber. 4. Invites Molly Erin McCarthy, ReNew. Installation view 2023 at the Zabludowicz Collection. Photo David Bebber. 5.Invites: Shinuk Suh, 2022. Installation view. Photo David Bebber. 6. Invites: Rebecca Parkin, 2022. Installation view. Courtesy of the artist and Zabludowicz Collection. Photo: Dave Bebber