'Julia has survived a house fire, there's been stalkers, and there have been amazing weddings she's attended – Julia has had such an incredible life and she has so many amazing stories', says Finn O'Branagain, co-writer of You Know We Belong Together, in reference to her co-writer and star, Julia Hales. One of those stories is that she is the first person living with Down syndrome to host Compass, a show which focuses on investigative journalism and intellectual storytelling on ABC ­Television – the national TV broadcaster in Australia. She hosted her own documentary, The Upside, which both shone a light on her own talent and ambition, and celebrated living with Down syndrome in a culture where many wrongly presume that Down syndrome equates to poor prospects and a poor quality of life.
You Know We Belong Together was developed over a year and a half, initially selling out at the Perth Festival in 2018. Hales has worked tirelessly to become a professional actor since before she even knew she had Down syndrome, first realising her ambitions when her older sister wanted to become an actor as well. The show was supposed to come to the Edinburgh Fringe in 2020, but for some reason it was delayed until this year.
Rather than looking to her numerous accomplishments and experiences to centre the show though, Hales knew what would tie it together: the beloved Australian soap opera, Home and Away. She's been watching it since 1988, and has dreamt about being on it since then. She loves 'the cast, the action, and all the drama.' O'Branagain reckons the drama of Hales's life is worthy of a soap opera in and of itself.
But You Know We Belong Together is not simply a show about a woman's love of a TV show; for Hales and O'Branagain, Home and Away is a springboard for exploring her life, her stories, and her experiences. After all, it makes sense ­– what better way to glimpse into someone's life than by watching them light up through the lens of what makes them tick?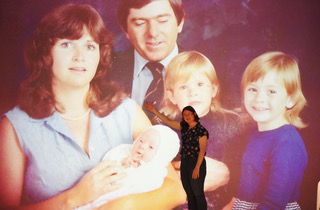 From the unassuming love of
Home and Away
, Hales goes on to construct a performance about so much more than that. When asked to describe what
You Know We Belong Together
is about, she says, 'It's about acceptance and belonging, relationships, karaoke.' But one of the most striking differences between the two women is Hales's proclivity to speak about themes, activities, and goals, versus O'Branagain's to speak about the importance of Hales herself. O'Branagain: 'It all fits together because of [Julia] and through her; that the work is about Julia and her life and her dreams and her loves.' It goes without saying that Hales is modest. Unless you ask the right questions, she doesn't say much about herself unless it pertains to her work. Both perspectives equally illuminate the full picture of
You Know We Belong Together
.
In her own words, it took about three years in total to get You Know We Belong Together 'up and running'. And the very first stage of research was interviewing people with Down syndrome. Hales is a leader in the Down syndrome community, and her show is starring, informed and created by people with Down syndrome. Alongside the express purpose of entertainment, she wants the show to be educational.
It goes without saying that the world has historically treated disabled people poorly, and we still have far to go when it comes to ableism and equality. Hales believes that by educating people on the treatment of people in her community in the past and present, we can make sure we don't repeat the same mistakes again. For the disabled community, You Know We Belong Together has been a 'strong and absolutely joyful depiction of living with disability on stage', and O'Branagain is not just speaking about Julia here: the whole cast has Down syndrome.
You Know We Belong Together has had no less an impact on people who don't have disabilities either, though. O'Branagain pointed out that 20% of Australians have a disability, and not all of them are necessarily visible. Therefore, very few people don't know anyone who lives with one. She says, 'It's so important that we share these stories, because far less than 20% of the stories we see on stage and screen feature disabilities.'
Although You Know We Belong Together is an unabashedly optimistic show, developing a piece that so frankly grapples with the social attitudes around Down syndrome and disability necessitates some difficult conversations. For her research, she interviewed not only people with Down syndrome, but parents of people with Down syndrome, and even couples who had previously terminated pregnancies when they found out their child was going to have Down syndrome. Of course, it's O'Branagain who is eager to shine the light on Hales; she remarked that 'as somebody on the outside watching a very difficult and fraught conversation – a very emotional conversation – happening, Julia handled it with such kindness and such elegance.'
Hales clearly has an emotional and compassionate capacity far greater than the average person, and her ambition disregards the difficulty inherent in conceiving of You Know We Belong Together. And her labour is paying dividends: O'Branagain describes how on lunch breaks people used to speak to Julia in an infantilising way, but now is 'inundated with people wanting to talk to her about the show and saying that they loved the show and that they're amazed by the show.'
The transformation of interactions between Hales and the public is mirrored in a change of attitudes to disability in those who watch the show, too. A doctor who saw You Know We Belong Together approached the director because earlier that day, he had counselled a pregnant woman that she should terminate her pregnancy since the child was going to have Down syndrome. After seeing the show, he said he was going to have a very different conversation with her.
Hales notes that she loves to get audience members involved – she recruits a 'mum and dad' from the audience, and at another point asks for 'a very handsome man'. For her, You Know We Belong Together is a part of a conversation in which people with disabilities can be rightly given undivided attention. Yet a conversation always has more than one participant, and her invitation to the audience, disabled and non-disabled, to participate and to involve themselves in a karaoke rendition of the Home and Away theme song speaks volumes to her key theme: belonging.
You Know We Belong Together presents its UK premiere at the Southbank Centre (18-20 Aug) and Edinburgh's Royal Lyceum Theatre (24-27 Aug).
Written by Cian Kinsella Cian is a Classics teacher and part-time pub quizmaster living in London who is primarily interested in music but is also interested in theatre, literature, and visual arts. He is particularly intrigued by the relationship between art, criticism, and the capital forces always at play. Furthermore, he believes that subjectivity – which is ultimately at the heart of all artistic and cultural criticism – should not be concealed, but probed and perhaps even celebrated. Who decides what we like? How do they construct widely held beliefs about what is good? These are two of the questions Cian looks to address.
Foot Notes:
Brought from Australia by theatre-maker and performance artist Julia Hales, You Know We Belong Together is a warm and uplifting play about people living with Down Syndrome, love, friendships, dreams – and a love of Home and Away. Julia's aspirations of being the first person with Down Syndrome to act in Home and Away are central to the plot and actor Ray Meagher (Alf Stewart) makes a cameo, infusing the play with nostalgia for the beloved Australian soap opera. This acclaimed play won two Performing Arts WA Awards and Julia was nominated for the prestigious Australian of the Year award.
Following sold out seasons in 2018 as part of Perth Festival and Black Swan's 2019 season, You Know We Belong Together comes to the Southbank Centre.
You Know We Belong Together is written by Julia Hales with Finn O'Branagáin and Clare Watson. The original production was commissioned by Perth Festival and co-produced by Perth Festival, Black Swan State Theatre Company and DADAA.
Black Swan's tour of You Know We Belong Together is supported by the UK/Australia Season Patrons, the Australian Government, the British Council, and Creative Partnerships Australia through the Australian Cultural Fund as part of the UK/Australia Season 2021/22, the Government of Western Australia DLGSC and the Black Swan Future Fund.