Oct 07,2022

feature

By Abundant Art
SEPTEMBER FEATURE: The Cartoon Museum Late: Laughter Lab – "Explaining the science behind humour"
They say that the one fundamental aspect that distinguishes humans from animals is laughter. As the only known living species that can apprehend humour, we have had quite a long history of appreciating comedy that was already present all the way back in Ancient Greece, where the very first theatrical comedies took place. The Cartoon Museum in Bloomsbury plays with the concept of universality of comedy by displaying a wide collection of cartoons that vary from French caricatures in the 1700s, to WW2 comic strips, to today's political caricatures. Situated next to Oxford Street, the Cartoon museum has many surprises to offer, the latest being the Late event "Laughter Lab" that occurred on May 26. Abundant Art got a sneak peek of this evening event rich in museum tours, interesting talks, stand-up comedy and most importantly, a good amount of laughter.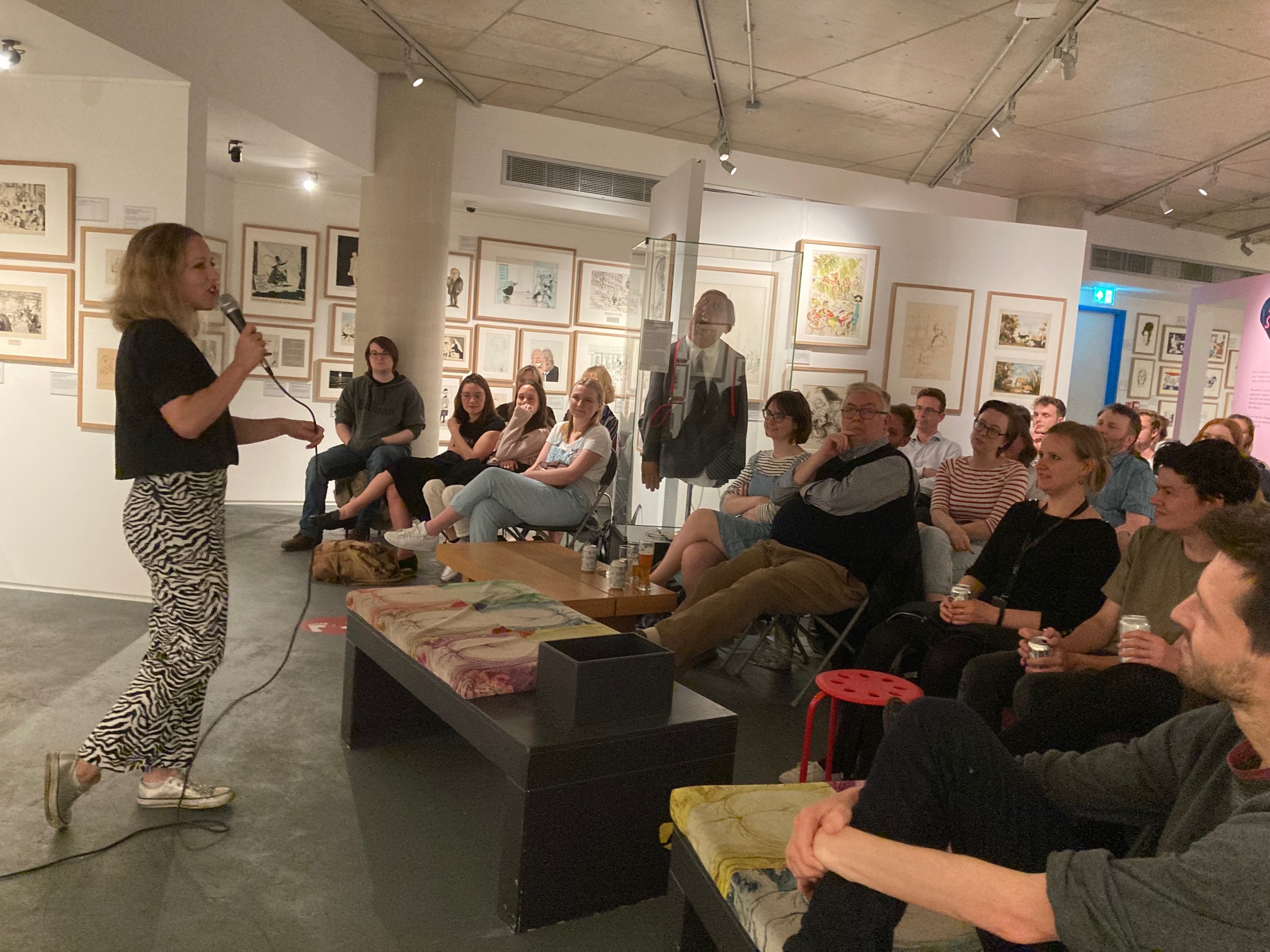 Annie McGrath talking to the audience – Image credit: The Cartoon Museum
The night revolved around the social and psychological experiment that had been run at the museum during the last months. Oxford professor Robin Dunbar was there to announce the awaited results of "the world's first mass experiment exploring the psychology behind cartoon humour". The test consisted in asking people to go through pairs of cartoons and determine which ones they found funnier, which resulted in an interesting study of the different types of humour that appeal to various demographics. It divided the audience between young and old, men and women, etc. to understand who preferred visual humour, political jokes, grotesque comedy… All of the results were presented in a very clear lecture-like way, which was still regularly punctuated by laughs from the audience.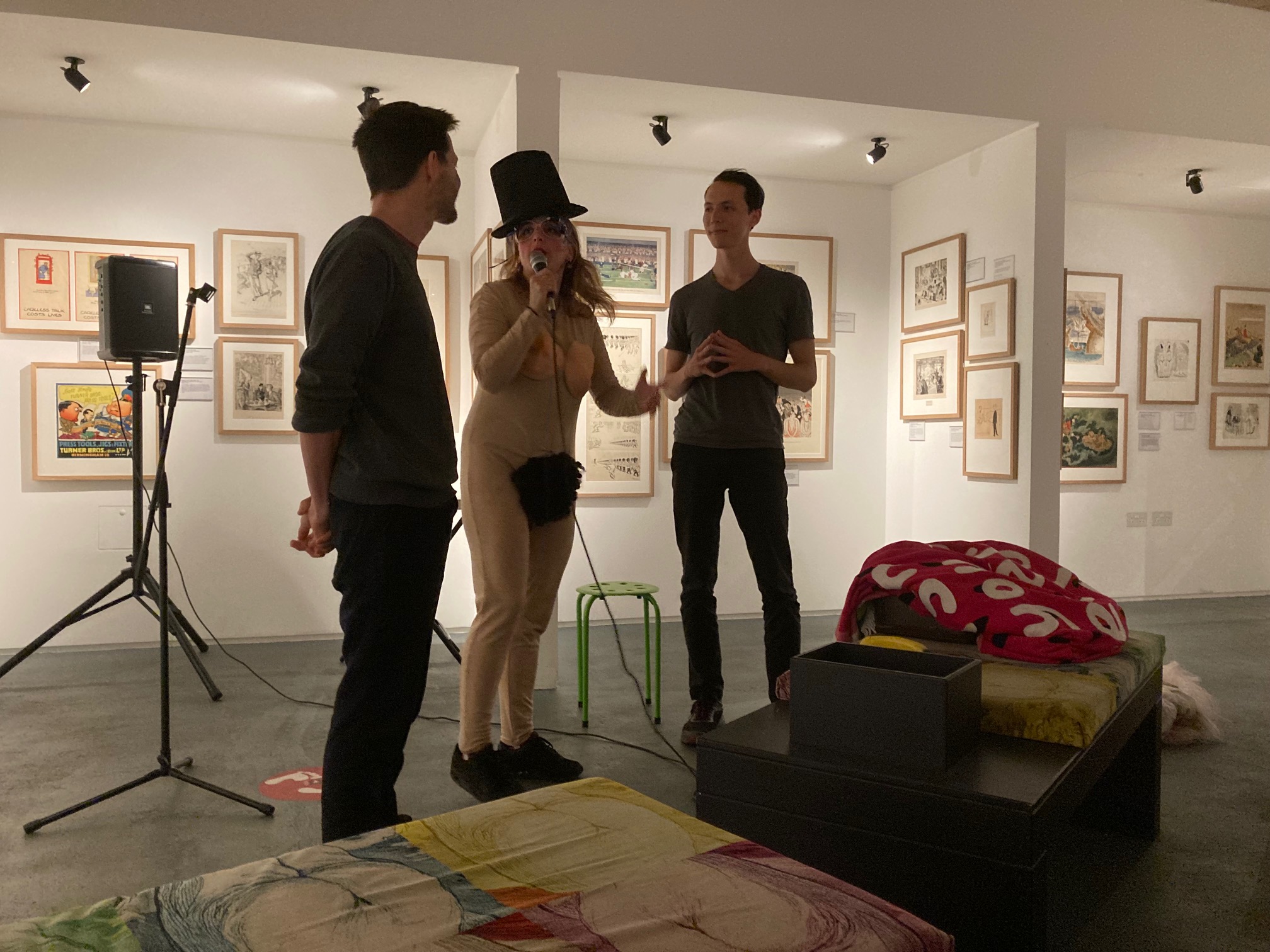 The stand-up comedy that animated the evening – Image credit: The Cartoon Museum
Overall, the event was very rich and light-hearted at the same time. Even the insightful museum tour and the academic speech were all executed in a highly cheerful manner that kept the guests in a good mood for the whole night. The friendliness of the staff was remarkable, as was the choice of speakers and of the comedians that animated the night. Rob Auton, Lucy Pearman and Annie McGrath were particularly hilarious, and their stand-up comedy was of serious competition to the written comedy on the walls.
In addition to participating in the evening, Abundant Art had the occasion to chat with Emma Stirling-Middleton, the curator of the museum, and Joe Sullivan, the Director, to get an insight into the process that led to organise this event.
Who's idea was it to do this mass public experiment exploring the psychology behind cartoon humour?
Emma: It has been such a challenging couple of years for us all, I wanted to make a light and joyful exhibition that brings people together to laugh and be merry! So often when we think about cartoons we focus on the creator, the artwork, the writing. But we rarely think about what is happening inside the mind of the viewer. When we look at a cartoon there is a moment between seeing the cartoon and our reaction to it – whether that's a smirk, an audible laugh, or a decision that it isn't funny. I thought 'wouldn't it be wonderful to make a whole exhibition all about that magical moment inside our minds?'
How did you choose what cartoons to include in this experiment and how did people cast their votes?
Emma: I started researching what work has been done on the psychology of laughter and cartoons, and soon came across the work of Robin Dunbar. Over the past 50 years, he has researched all kinds of fascinating things – relationships, friendships, love, language, religion, brain evolution, social media and the internet and much (much) more. I found he had undertaken a psychology experiment around stand-up comedy and jokes and made some really interesting discoveries. I wondered whether it might be possible to apply the same experiment to cartoons. We had a phone call and chatted through the idea and from there we were laughing along together, devising our mad mass public experiment!
Joe: We worked with Robin to identify cartoons that responded to different psychological mind states, and paired cartoons so we could look at the difference between the states of mind they put people in. Visitors then responded via a survey, simply ticking A or B for which they thought was the funniest cartoon. So, it was a simple entry point for the audience but actually gave insight into quite complex psychology. The data – consisting of thousands of submissions – was inputted by a wonderful team of museum volunteers, and Robin analysed it and drew out his conclusions. The results are going to be published in a scientific paper, and I hope that our visitors feel empowered by how much we value their opinions.
What do you think makes a cartoon funny and what doesn't? Is there a unique set of elements that make a cartoon funny?
Emma: I think that's the wonderful thing about gag cartoons – nobody knows! Is it good writing? Good drawing? A perfect symbiosis between the two? Is it timing, with what's happening in the world? Or is it utterly personal and subjective? Our experiment will reveal more information from one psychological perspective, but of course, the reality is that it's something us mere mortals will never truly know – and isn't that magical!
How important is laughter in our everyday lives and is it usually spontaneous and deeply personal?
Joe: Laughter brings people together. It's been a fundamental building block of hominid interaction for 10 million years and transcends human society – all sorts of apes laugh together! It can be spontaneous but doesn't have to be – I'm sure everyone knows someone with a fake laugh!
Emma: Having watched visitors go round and do the experiment, it has been wonderful to see how it brings people together and sparks conversation. People are comparing results, getting competitive, taking interest in their similarities and differences. I also love how our visitor's personal insights into our collection are going to reveal new information and enrich our understanding of cartoon art.
How important are culture and society to the Cartoon Museum?
Joe: The museum champions a uniquely British art form – satirical cartooning, which is the result of 317 years of a free press in this country. That means for a long time we've been able to laugh at all the idiotic things that politicians, the Royals, and celebrities have done, without anyone being able to do anything about it! Alongside that history, we have an incredible tradition in comics, including of course the Beano and 2000 AD among many, many others. Cartooning is interesting because it goes hand-in-hand with society – it holds up a mirror and reflects the world at the time the art was made, which gives us a really interesting window into exactly what cartoonists think of the world around them, how they process it, and what about the world makes them laugh.
How can children and adults attend your cartooning, comics and animation workshops at the museum? How important is it to get creative?
Joe: It is incredibly important to get creative! We want everyone who visits the museum – or sees us online, attends an event, visits our stall at a community fair – to leave wanting to pick up a pencil and draw something. Being creative helps you relax, helps you express yourself, and helps you make sense of the world.
We offer all sorts of events and workshops for adults and children, from complete amateurs wanting to learn to draw simple caricatures to early-career artists making their way in the industry who want to understand the finer points of intellectual property! We also have free downloadable worksheets on our website – so the best place to start is by heading there and finding out how to draw Beyonce!
The Cartoon Museum has proven once again to be a true hidden gem in London, and adds a much-needed touch of humour and glee to everyday matters. Check out its permanent exhibition and the many more projects it has to offer at www.cartoonmuseum.org 
Reviewed by Céline Galletti – Celine is a volunteer writer for Abundant Art. Originally from France and Italy, she follows her passion for writing and art by studying Comparative Literature at UCL, London. As an international student living in London, she is determined to fully experience and understand the city's vibrant arts scene, and be a part of its creative storm.