Sep 20,2023

feature

By Abundant Art
September Feature: In Conversation-Artist Suzan Tokcan about her Flower Power series, a dazzling world of shimmering flower imagery, JM Gallery,  21-26th September
The Flower Power Exhibition – Pixel Pixie: Creating Whimsical Art
Artist Suzan Tokcan takes us on a fanciful journey down a rabbit hole, to a dazzling world of shimmering flower imagery. A dreamy cornucopia that celebrates and questions the relationship between truth and fiction. Employing photomontage, image distortion and painting Tokcan constructs an exhilarating tension between hyperreal and mythological landscapes. The ride is simultaneously perplexing and breathtaking.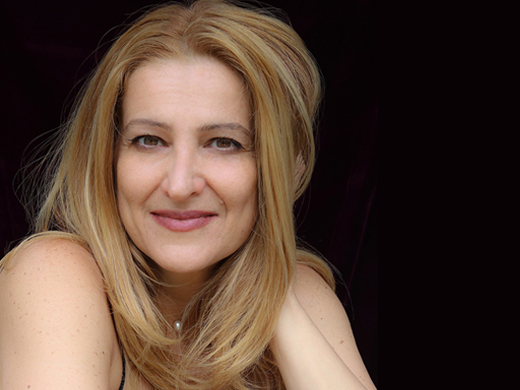 Suzan Tokcan on her creative practice, inspirations and the upcoming exhibition!
Suzan Tokcan has been involved in art and design most of her life. As a Turkish woman of mixed heritage living in London since her teens, she has always been something of an insider-outsider, a stance that underpins and informs her art. Growing up between London and Istanbul provided Suzan with rich, varied and eclectic creative stimulation. Studying painting and restoration, drawing political cartoons, an internship at an Istanbul creative agency, a chance introduction to photography at university, and working as an interior designer in the hospitality industry allowed her to create her own unique layered visual language.
What inspired you to get involved in art and design in the first place and how would you describe your digital art brand?
"I started drawing and painting at a young age. My mum started showing me art books and was impressed by my eye as I recognised a Cezanne landscape as being by the same artist as the Card Players 🙂 I studied oil painting with artist restorer Orhan Ersoy, headaches from turpentine forced me to switch to acrylic paint. I came to the UK at thirteen and fell in love with London when I settled there at sixteen. There followed my culture vulture years. London was and still is an exciting creative hub, an edgy metropolis and I consumed the art, the history, the music and the nightlife. I studied interior design as my parents wouldn't allow me to go to art school and thought I should study something more useful! My interest in both fields grew alongside each other."
In the mid-1990s, Suzan launched Suada Design with her sister Damla to deliver art and design projects for the hospitality industry. This evolved into Wild@Art, producing digital art, printed on experimental surfaces, which she exhibited in Istanbul, Ankara, and London. A long stint as an entrepreneur in event management in London in the 2000s provided fertile ground for her to tailor her creativity to commercial settings. Over the last five years, Suzan has returned full-time to creating digital photomontages, launching the Pixel Pixie line of limited-edition prints. The Flower Power exhibition at JM Gallery  displays one of Pixel Pixie's signature collections and is dedicated to the memory of Damla.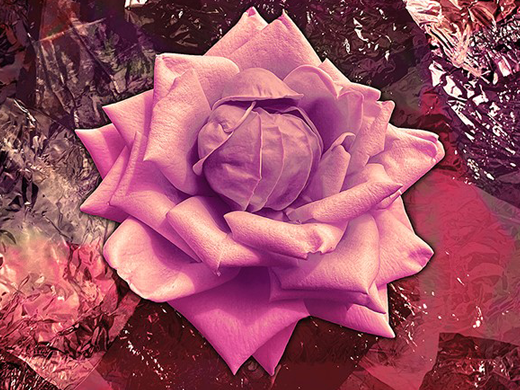 How do you create your beautiful photo montages and what are you trying to say in them?
"The process is multi-layered. I take photographs all the time and have an extensive library of my pet subjects… in the case of Flower Power a library of flower photos and backgrounds that I montage together. This process is done in Photoshop and the idea is to create alternative realities by montaging images snapped from my surroundings. I also often make variations that can be displayed as a group or on their own or mixed with other Flower Power images. The portrait sitting flowers concept is influenced by 16/17th century European 'Vanitas" paintings and makes a whimsical comment on our selfie culture. I treat the flowers as characters in fantastical settings. I am interested in looking at details and from further afield and often play with these alternative viewpoints. Each image has a private narrative which I wove while producing it, but they are open-ended enough to allow the viewer to make up their own narrative, or forget narrative altogether and enjoy the visual sensation."
Why do you create art?
"I create art firstly because I enjoy the process. It is rather compulsive. I have worn many hats throughout my life, but I always come back to making art as the source of what inspires me and makes me feel vital.  It is cathartic and meditative. As a shy introvert, I find the next stage of showing and selling my work rather more challenging but exciting, nevertheless. It is also the time when you meet fascinating people and make interesting connections, so all part of the growth process."
Why this exhibition and why now?
"I thought we all needed some positive, if somewhat ironic, optimism in our lives at the moment. Flower Power is the result of my journey through grief. Losing my sister was the most horrific experience. However, it made me go deep into myself only to come out the other end with more humility, compassion, and acceptance. The optimistic, resilient outlook is what my sister left me. The irony is probably mostly mine. Just as I felt ready to connect with the world around me again Covid struck, and the world closed down. The idea and the library which has slowly been building up came to actuality during the Covid lockdown and many serendipitous happenings later… I ended up with the exhibition at JM Gallery."
How do you distinguish between art and design? And what is the difference, if any, between high and low art?
"I worked both as an artist and an interior designer. Finding common ground between disciplines and making connections between them interests me. I guess simply put, art is an emotional response to your environment and design is a functional one. I strongly believe that taking both these factors into account makes for better environments.

The high art low art argument is a favourite topic of mine. I understand the function of but am weary of the art establishment. However, I must admit there are now many new avenues to explore as an emerging artist and there is a strong affordable art movement blossoming. As far as I'm concerned, the more people view, connect with and love my work enough to own one, the better. Of course, we can't leave this topic without the AI takeover and how it will affect the arts in general…"
Which artists and/or art movements influence your work? 
"I love art movements that respect craft at the core or at least an important aspect of their art. I think it is a more honest approach to our standing in society. I have problems with elevating the artist to a rock star status… as enjoyable as some might find it 🙂 Having said that Andy Warhol's ideas and experiments fascinate me. Personal favourites include Rothko and Bacon though I can't say these influenced the Flower Power series. One of my most feel-good paintings, Sargent's 'Carnation, Lily, Lily, Rose' spiked with a bit of Warhol multiples is what Flower Power series was most influenced by."
What is the working relationship between you and DIFOART?
"My working relationship with DIFOART grew organically.  I started getting my prints produced by DIFOART on my sister's recommendation. Cosar and I had an opportunity to spend some time together in London and decided there was great synergy and enthusiasm to collaborate and DIFOART London was created! This is an exciting opportunity for me to pursue my art and design interests side by side. I am looking forward to further launching DIFOART in the hospitality design field when we take part in the International Hotel Show in October at London Olympia."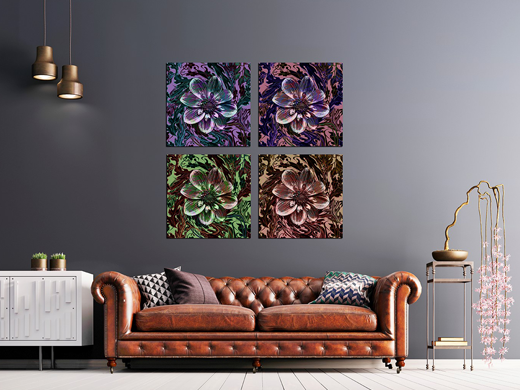 What advice would you give to a young artist or art student trying to pursue a career as an artist?
"Artists are both the most entitled and the bravest people I know. Entitled because we have this blind belief that we have something relevant to say. Brave, because we bear our souls and expose our vulnerabilities while doing it. I am not going to reinvent the wheel here… I am sure every artist is given similar advice… be resilient, be supportive of each other, be curious and stay creative."
Interview by Julia Nelson
Photo credit: Melanie Wakeley – (Suzan Tokcan portrait)
About The Series
Suzan Tokcan began her Flower Power series during the COVID-19 pandemic. Confined to her home during lockdown she found comfort in the flowers in her garden and began to photograph them obsessively. The Flower Power series explores the tension between random and intentional aesthetics and between transient creations and the hubris of longevity. The intricate details and patterns and seeming 'imperfections' of flowers are a reflection of how nature creates sublime if short-lived beauty in a seemingly random, wild, and chaotic manner whereas human design is characterised by rationality, control, and a quest for perfection and permanence.
Suzan's montages juxtapose her images of flowers with those of objects that she has photographed in the course of her wanderings and experiences to draw often-surprising connections and contrasts between cultural references and personal narratives.
Heavily influenced by Pop Art, Suzan's dahlias and hibiscuses are 'characters' much like Warhol's Marilyns. She problematizes and de-centres their 'safe', traditional representations as symbols of peace and love and positivity by 'posing' them against odd and whimsical backgrounds – much like 'selfies' in our own narcissistic age of social media oversharing. The references here are often private but open-ended enough for viewers to make up their own stories.
Suzan often produces variations of the same image as an ironic homage to the arbitrary manner in which enchanting patterns emerge in nature. These variations allow the viewer to either participate in the artist's narrative or create their own reality by mixing and matching images.
Ultimately, what gives the Flower Power series its subtle political charge is Suzan's insistent interrogation of mainstream, elite, and patriarchal narratives around aesthetics and the received distinctions between high-brow and popular art and the supposedly serious and the plainly absurd.
Flower Power is sponsored by DIFOART, an international digital art curation and customised print, furniture and fit out production platform representing a collective of artists creating works for the hospitality and commercial environments. Suzan has recently teamed up with DIFOART to launch their London presence.
Flower Power at JM Gallery, 230 Portobello Road, London W11 between 21-26th September 23  Flower Power (j-m.gallery)
Contact • Suzan +44 7768 864 061 • info@pixelpixie.co.uk www.pixelpixie.co.uk