Feb 24,2023

By Abundant Art
February Feature: Breakin' Convention: Standing on the shoulders of hip hop giants
In-conversation – Jonzi D, founder and artistic director of Breakin' Convention and artists of their Back To The Lab residency at Sadler's Wells.
The founder and artistic director of hip hop theatre company Breakin' Convention points with gusto at a small screen in Sadler's Wells theatre showing ballet dancers. 'Look at that!', Jonzi D says. 'Classical ballet is built on history and teaching the form as it was, yeah? When it comes to what we're doing with hip hop culture, I want to look at it in that same context,' he explains. 'Breaking [I knew this as 'breakdancing' growing up in the provinces] started in the 1970s, and it just got better and better and better. Some people don't want to do that dance form – and that's fine – but that's not because it's out of fashion.'
Jonzi is 53 and a 'true Cockney', in his own words: he was born within earshot of the bells at St Mary-le-bow in the City of London. (In our conversation I was ignorant enough to think he was referring to church bells in the area of Bow, in East London.) These same bells called Dick Whittington back to London in 1392. Jonzi is also celebrating the 20th anniversary of Breakin' Convention this year.
Back To The Lab, a two week residency where dancers receive mentorship and time to develop their skills, is one of several programmes run by Breakin' Convention. This might sound vague, but for dancers it has tangible benefits. 'Sometimes, you might be in an environment where you feel pressured to get the final product,' Chantelle Dawe, one of the participants, tells me, 'but Breakin' Convention and Back To The Lab create a space where you don't have to apply that pressure. You're just supported.' Dawe started dancing as a hobby in year 8, before taking it more seriously in competitions around 15. Since then, she's moved into teaching dance and working with young people.
For the last eight years, Dawe has specifically worked on a dance style within breaking called Krump. She describes it as a 'raw expression of dancing'; it's heavily dominated by men and is often perceived as being aggressive. 'But it's a praise dance', she says, 'it's being your true, authentic self. [Regardless of] whether it's deemed aggressive, it's a spiritual style.'
As a masc presenting gay woman, Dawe feels that it's essential to have time and space where she feels safe to truly express herself.  She's used the space provided by Back To The Lab to develop a duet piece about the intersection of faith and sexuality – but it quickly grew into a conversation between her past and current selves, about 'finding solace in the tribulations', about healing.
Jonzi D is a peculiar man, and as fascinating as he is peculiar. He is totally unabashed in what he thinks and feels, and he could talk the hind legs off a donkey. When Breakin' Convention began 20 years ago, he tells me that 'hip hop theatre in the UK was pretty much non-existent.' He goes on, 'Now we've got some of the greatest hip hop dance theatre touring the world, and I think that we've been instrumental in that.' If I was having a bad day – and if Jonzi weren't so affable – I might have thought he was arrogant. But I suspect that this degree of self-confidence has always played an integral role in getting people onboard.
Breakin' Convention was conceived when Alistair Spalding, artistic director and chief executive of Sadler's Wells, first took up the post in 2004 and invited Jonzi D to discuss a hip hop festival with him. Spalding had previously been head of dance and performance at the Southbank Centre, and was responsible for programming Jonzi's Aeroplane Man at the Queen Elizabeth Hall, which was 'one of the first times people saw street culture in a theatre', he says. I imagine that it drew mixed reactions – I'm thinking it's something like Marty McFly playing 'Johnny B Goode' at his parents' high school dance in Back to the Future. But apparently not: 'Standing ovation to curtain calls; remarkable reviews in the press. I got the sense that people felt like there was a new voice in theatre.'
Jonzi's confidence can be quite disarming, but I have no doubt that it's taken Breakin' Convention far. They've toured in Luxembourg, the Netherlands, and even the USA: Denver, Miami, New York. What he's most proud of is seeing UK hip hop theatre acts touring the globe. 'There was a time where I used to have to travel the world looking for stuff,' he says, 'but now everybody comes to us.' They have even been booked three times at Harlem's Apollo.
Breakin' Convention will be opening a first-of-its-kind Hip Hop Theatre Academy within the new Sadler's Wells East venue in Stratford, opening in 2024. They will offer a Level 3 Extended Diploma with classes in breaking, popping, rap, DJing, beatmaking and graffiti.
This sounds great – but also a bit old school. Jonzi speaks a lot about the greats of hip hop from the 80s, and partly it's because that's when he came into hip hop. 'I'm looking at the culture of dance, rap and music in quite a balanced way', he tells me. While the Academy will have tutors with experience from a wide range of hip hop cultural practices, he has some reservations about some newer innovations, particularly in those that afford little space for dance: 'Rap is made of a myriad of voices. But in the early 90s this gangsta rap thing became the norm. And I don't think the community did that; I think the people who run the record companies did. But that is not the part of hip hop I engage with. I engage with peace, love, unity and having fun.'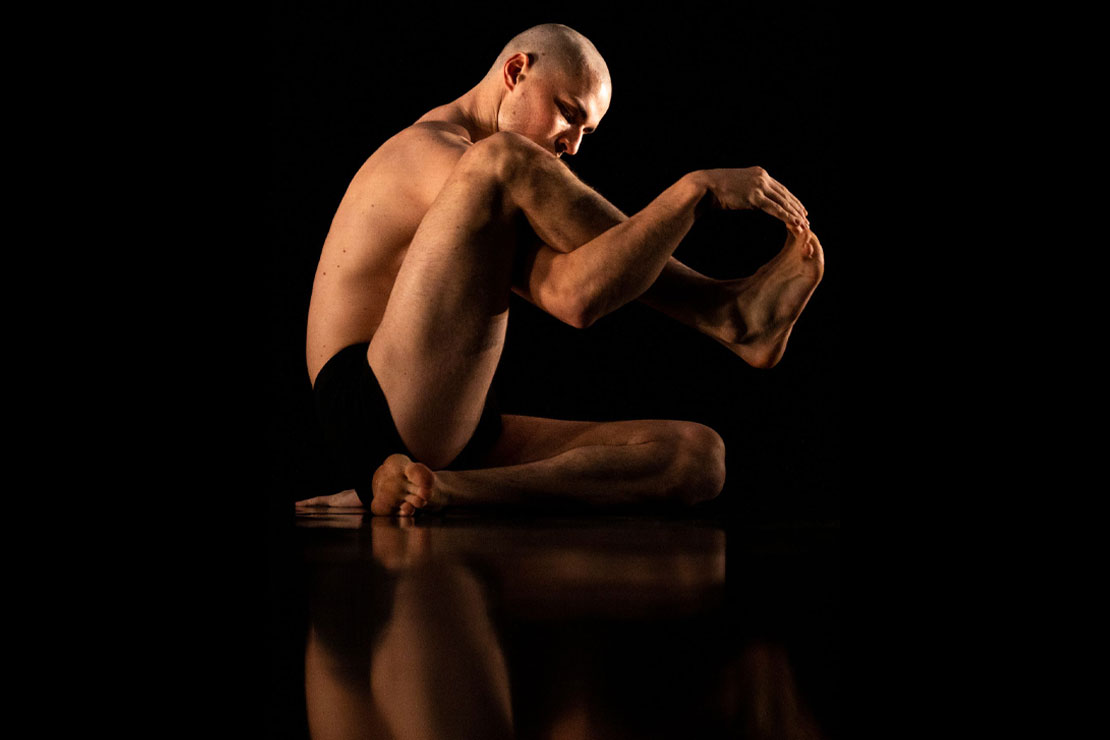 Pictured: Justin de Jager
After the two week residency, Back To The Lab participants publicly showcase their work to audiences. Jonzi D walks on stage with House of Pain's 'Jump Around' blasting over the speakers, before encouraging the audience to jump up, jump up and get down. What makes the showcase unique is that every choreographer gets audience feedback. Many in the audience correctly guessed that the first piece, by Amber Williams, was about battling an eating disorder. With Jonzi mediating the feedback, even children in the audience were excited to let the dancers know what they think. The second, a solo piece by Justin de Jager, focused particularly on his individual technique: threading. 'It's basically creating physical openings by connecting two body parts and going through that opening.' While it originated in breaking, some choreographers like de Jager specialise in threading.
In the interval, Jonzi pulls me aside and lets me know that coming on with House of Pain in the background was a spontaneous, last-minute decision. A woman approaches him to ask if there would be any hip hop music in the showcase. (While the performances all originate in breaking, none of the music has been hip hop.) He answers that he doesn't think so, before returning to ask me if I was also expecting hip hop music. 'Well,' I responded, 'I did expect hip hop music at a hip hop theatre showcase, but I'm not necessarily disappointed that there isn't any.' It's funny that Jonzi didn't think people would expect to hear hip hop, but again it is symbolic of his monolithic self-assurance.
Dawe enjoyed the feedback process firstly because she was interested in people's perspectives and what they thought it was about, but also so she can work on it further. 'It's also valuable in terms of taking it into schools,' she says, 'and maybe using the piece as an educational tool for young people to deal with certain issues that they may be facing themselves. It may get them to think about who they want to become.' Just to perform such intimate and incomplete work to a room of strangers at the Sadler's Wells Lilian Baylis studio must require bravery, let alone to sit in front of those same strangers and receive feedback. But Jonzi and co. have crafted an atmosphere where everyone feels comfortable doing that. I'd say that is breaking convention.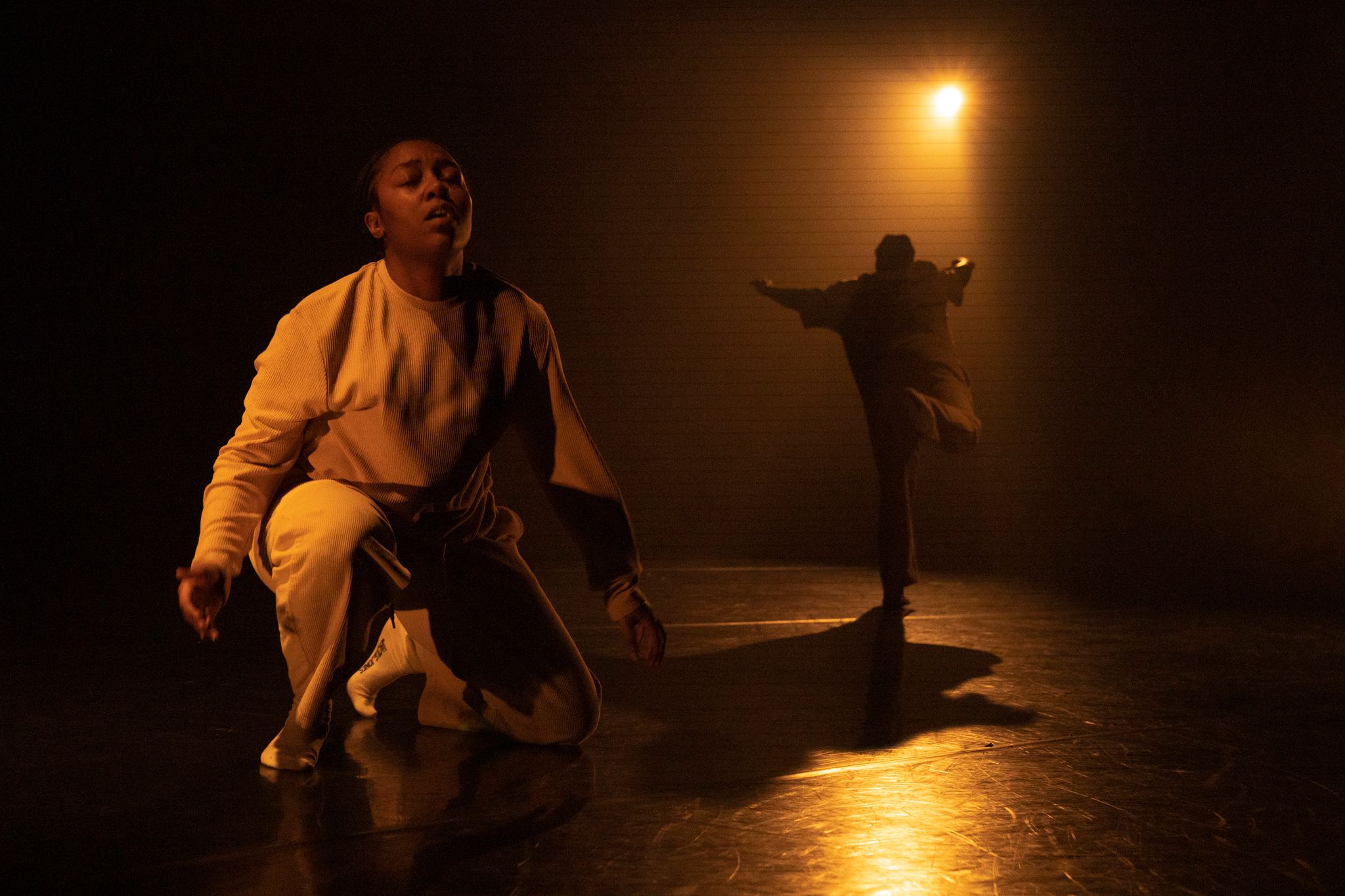 Pictured: Chantelle Dawe's piece
Breakin' Convention Festival celebrates 20 years of hip hop innovation and excellence from Friday 28 April to Monday 1 May 2023 at Sadler's Wells.
All Images: Back To The Lab, Credit-Dave Barros.
Written by Cian Kinsella
Cian is a Classics teacher and part-time pub quizmaster living in London who is primarily interested in music but is also interested in theatre, literature, and visual arts. He is particularly intrigued by the relationship between art, criticism, and the capital forces always at play. Furthermore, he believes that subjectivity – which is ultimately at the heart of all artistic and cultural criticism – should not be concealed, but probed and perhaps even celebrated. Who decides what we like? How do they construct widely held beliefs about what is good? These are two of the questions Cian looks to address.
Cian's latest feature Audio-visual duo Glows releases LA, 1620-Label: Slow Dance, on 15 Sept'22 – and a photographic exhibition to coincide-Special Feature – Abundant Art
Footnote:
Back to the Lab is UK's pioneering hip hop dance theatre, Breakin' Convention 's artist development programme, a two-week theatrical hip-hop course which culminated in a public showing at Sadler's Wells' Lilian Baylis Studio on Friday 28 January.
Back to the Lab is aimed at experienced hip-hop choreographers seeking new and dynamic ways to approach their work. This year, they benefited from the mentorship and support of industry heavyweights Jonzi D himself, Jonathan Burrows, Anthony Ekundayo Lennon, Jane Sekonya-John. The artists in the programme this year are award-winning performer Amber Williams, KRUMP specialist Chantelle Dawe and Brazilian dancer Leozin Laureano.
Furthering the commitment to support the development of creative thinking in theatrical hip-hop, Jonzi D will be spearheading an upcoming two-year intensive training course to aspiring hip-hop artists in Sadler's Wells new east London venue, with the first intake of students at the Hip Hop Theatre Academy enrolling in 2024. The diploma course for 16- to 19-year-olds will cover all the artistic elements of hip-hop culture with training in live performance and theatre production at an international standard, including classes on breaking, popping, rap, DJing, beatmaking and graffiti.